Cookie Policy
This cookie policy is intended to inform you of how we use "cookies" on saftlok.com (website) and to assist you in making informed decisions when you are using it.
Cookies
There are no essential cookies necessary to operate this website.
google-analytics.com cookies are used on saftlok.com to track the website activity of the users such as session duration, pages per session, bounce rate etc. along with the information on the source of the traffic.
Third-party cookies
Non-Essential third-party cookies are those that do not originate from the website operator (saftlok.com), but from a third party. Web pages on this website may contain contents and or links to other sites like YouTube.com, Google.com and linkedIn.com, which may set their own cookies. saftlok.com has no control over these third-party cookies.
Learn about cookies, how to control and disable them by visiting cookiesandyou.com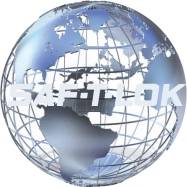 SAF-T-LOK and SAF-T-EZE are registered trademarks of SAF-T-LOK International Corporation.
All product names, logos, and brands are property of their respective owners. All product names, logos and brands used on this website are for identification purposes only.

© Copyright
All rights reserved.
No part of this site may be copied, reproduced or transmitted in any forms or by any means, electronic, mechanical, photocopying, recording, or otherwise, without the prior written permission of SAF-T-LOK International Corporation.