Welds and Castings Porosities Sealing
Porosity Sealing Application Method A-105
This method pertains to the application of SAF-T-LOK S90 Penetrating Sealant Compound for the sealing of existing welds porosities and castings.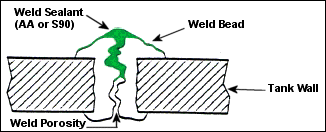 PROCEDURE
IMPORTANT: TAKE PROPER SAFETY PRECAUTIONS IF WORKING WITH FLAMMABLE LIQUID TANKS. AVOID USE WITH COMPRESSED GASES.




Wire brush to remove paint, rust, etc. from repair area.

Clean repair area with a cleaner/degreaser.

Apply localized heat to bring repair area to approximately 200ºF

Allow repair area to cool to approximately 120ºF

Brush or spray S90 Penetrating Sealant Compound on repair area.

Note: *Steel / Aluminum/ Stainless - Use SAF-T-LOK S90 Penetrating Sealant @ 120ºF.
Note: *Not recommended for "blowholes".
*Maximum porosity sealed - .005".

Allow to cure for 30 minutes (High pressure above 150 psi – 1Hour).

Clean with SAF-T-LOK Cleaner & Degreaser to remove excess sealant. Do not grind.

Paint as required.

Note: Casting repair uses same procedure.

SEALING NEW WELDS – PREVENTATIVE MAINTENANCE
1. Remove all slag and scale while hot.
2. Apply S90 Penetrating Sealant Compound when weld is 120ºF and falling.
3. Follow the procedure above.
SAF-T-LOK and SAF-T-EZE are registered trademarks of SAF-T-LOK International Corporation.
All product names, logos, and brands are property of their respective owners. All product names, logos and brands used on this website are for identification purposes only.

© Copyright
All rights reserved.
No part of this site may be copied, reproduced or transmitted in any forms or by any means, electronic, mechanical, photocopying, recording, or otherwise, without the prior written permission of SAF-T-LOK International Corporation.