Threadlocking and Thread Sealing Threaded Joints
Threadlocking / Thread Sealing Application Method A-104
This method pertains to the application and assembly of SAF-T-LOK products for threadlocking and or the sealing of threaded joints. The procedure is to be used when assembling threaded metal parts, using SAF-T-LOK threadlockers or sealing products.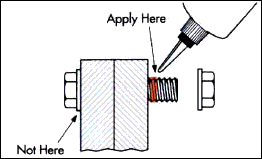 PROCEDURE
Solvent clean the parts of any contamination. Use Primer if parts must go back in service promptly.

Apply the sealing compound to the male threads. Apply to the root or 3 or 4 of the threads of the bolt where the nut will rest when assembled.

Assemble the joints to the required torque. Do not over tighten.

The assembled parts will be low pressure sealed within one hour. A full cure will occur within 24 hours (or 4 hours with Primer).
SAF-T-LOK and SAF-T-EZE are registered trademarks of SAF-T-LOK International Corporation.
All product names, logos, and brands are property of their respective owners. All product names, logos and brands used on this website are for identification purposes only.

© Copyright
All rights reserved.
No part of this site may be copied, reproduced or transmitted in any forms or by any means, electronic, mechanical, photocopying, recording, or otherwise, without the prior written permission of SAF-T-LOK International Corporation.